The Insider's Guide to Ecommerce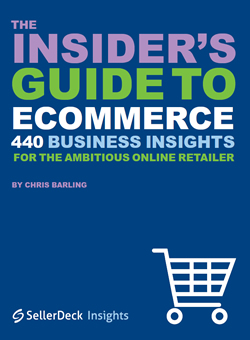 440 Business Insights for the Ambitious Online Retailer
By Chris Barling
Since 1996, Chris Barling, has specialised in helping small and medium sized businesses to sell on the Internet, and tens of thousands of businesses have sold online with his company, Sellerdeck, including many famous names. In this guide, Chris shares the basic steps to setting up shop on the web, together with the key lessons he has learned that can make the difference between success and failure. The information is organised into a series of practical tips under different headings, so that it's easy to dip in and out of.
Testimonials
"A comprehensive road map for anyone selling online, full of practical advice that will help launch a new e-commerce business or transform the fortunes of an existing one. A must-read."
Rachel Miller, Marketing Donut
"An indispensable guide for anyone starting a business online. It's easy to dip in and out, and is a great reference to help you get going."
Dan Matthews, esellermedia.com
"What Chris doesn't know about E-Commerce isn't worth knowing so this book should be every business owner's indispensable guide to making a success of selling online."
Dan Martin, BusinessZone.co.uk
"Chris is that rare beast, a true E-Commerce expert. The Insider's Guide to Ecommerce is a must-read."
Mark Newton, ECats and PC Pro Real World columnist