MANAGED SERVICES
What is a Responsive Design?
Increase your sales by giving your customers a great experience, no matter how they view your shop
Sellerdeck's responsive design service will work with you to create a mobile-friendly presence for your online business that looks equally good on PCs, laptops, tablets and smartphones.
Ready to go mobile-friendly?
Click here to arrange a callback from one of our E-Commerce experts.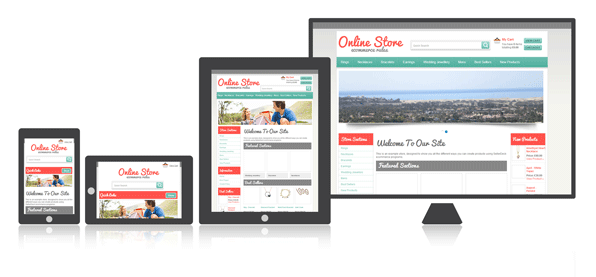 Responsive Design
Smart modern design
Automatically adapts your design based on browser screen and resolution
Supports your own branding and colour scheme
Range of implementation options
The most important trend in online selling at the moment is the rapid growth of people browsing with a smartphone or a tablet.
The challenge facing online retailers right now is how to make sure that all their visitors can find what they want and place an order easily, no matter how they choose to browse. If you don't have a store that works well on handheld devices, then you are missing out on sales right now. This is where the Sellerdeck Responsive Design Theme comes in.
The Sellerdeck Responsive Design Theme cleverly detects what device a person is using to view a website. It then automatically reconfigures the elements on the page to present them in the optimal way for that device.
To see an example of the 'Classic' Responsive Theme in action, go to http://www.sellerdeck-managed-services.co.uk/.
If you are looking at with a PC and monitor you'll see something like this: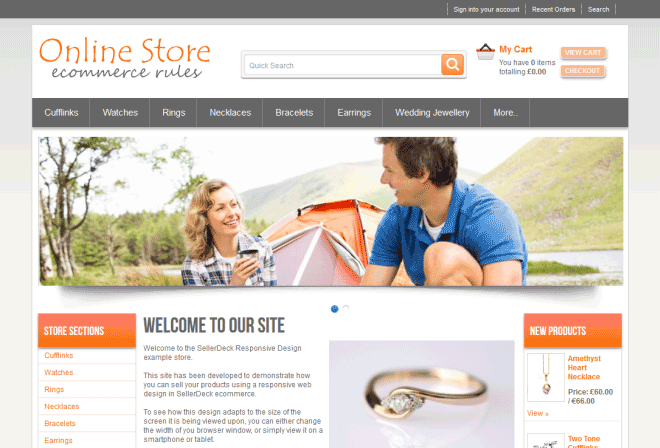 But if you look at the same page with a smartphone (in this case, an iPhone) you'll see it like this: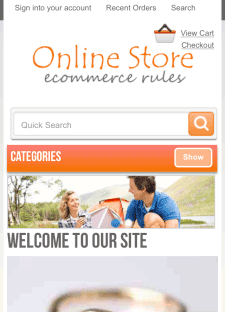 The elements are in a single column, so visitors won't need to scroll sideways, and the menu appears as a pull down rather than a horizontal 'mega menu'. Also, all buttons and links and large and clear to click on.
Many other E-Commerce solutions offer a completely different set of pages for mobile customers, but this gives you the headache of having two sets of pages and two designs to worry about. The Sellerdeck Responsive Design Theme means you just have one fantastic design and just one set of pages for Google to focus on.
How do I get hold of a Sellerdeck Responsive Design?
Click here to find out more about our Responsive Design service.
* from 2013 research by IMRG/Capgemini