PayPal for Sellerdeck Desktop Users
Please note: the following legacy PayPal platforms are no longer supported for new orders from Sellerdeck Desktop versions 16.1.0 and 18.1.0 onwards. They are replaced by a unified integration with PayPal Commerce Platform.
PayPal Website Payments
PayPal Express Checkout
PayPal Website Payments Pro
PayPal Website Payments Pro Hosted Solution
After upgrading to either of the above versions, you can still use the desktop buttons to Capture, Refund and Void payments for existing orders that were placed using any of the legacy methods if you upgrade a site that uses them, provided you retain PayPal Express in the Payment Methods grid. The other three legacy integrations may be removed from the Payment Methods grid without affecting the existing orders.
To accept payments via PayPal Commerce Platform you must have a PayPal business account.
To integrate PayPal Commerce Platform into your SellerDeck Desktop site, follow the steps under 'PayPal Commerce Platform' in the article 'How do Payment Service Providers Work?' in the Sellerdeck Desktop main help (Help > Help Topics).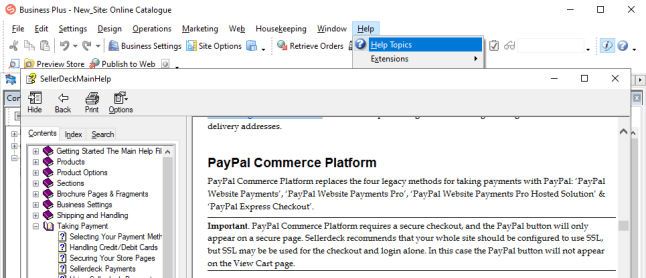 © 2021 Sellerdeck Ltd