And a great time was had by all!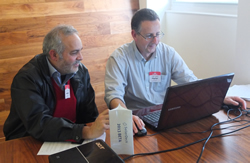 Demonstrating Sellerdeck 2013 to Mario Loulie of ITQ Solutions
As CTO, I try to get out and meet customers when I can, but it isn't always easy. So it was a special treat this week to attend the Sellerdeck Ecommerce Horizons Conference at PayPal's prestigious headquarters in Richmond-upon-Thames.
I started with Sellerdeck in the very early days (when it was still called Sellerdeck), working on V2 through to about V5. In those days I ran the "desktop team" while Zoltan Magyar ran the "server team". After the DotCom bubble burst I was made redundant and spent a few years in the wilderness, but gained experience in different technologies and development practices.
Ben and Chris re-hired me in April 2011. I spent a year getting familiar with the code again, learning about the new features and contributing fixes and improvements; and then took on the CTO role. I'm very much hands-on, tracking down difficult bugs, but also providing guidance on how new features should be implemented as well as helping to guide new directions for the company.
The conference was great. There were fascinating talks from people who really know their stuff. Lots of networking in ideal surroundings.
But the best part from my point of view was meeting a range of Sellerdeck users: add-on developers, designers and end-users. It was great to renew an old friendship with Jan Strassen from Mole End who also worked for us "back in the day". Fergus Weir from Teclan had some great new mobile layouts, and Malcolm Brook of Tod Designs talked about the back-end integration work he is doing. It was also nice to meet Stuart Moore of ee-scape for the first time.
We've been working very hard on the new features in Sellerdeck 2013, and it was very gratifying to hear positive feedback from all the people that I spoke to: "This will make customers stick with Sellerdeck"; "I never thought this was possible"; "How have you done this without a database?"
I'm drinking my first cup of tea from my Sellerdeck mug. I've used the Sellerdeck pen - and now know what the soft bit on the end is for: it's conductive and so works on touch-screens - you learn something new every day!