Postcode Lookup
Increases sales by reducing cart abandonments
Helps you avoid missed deliveries
Enhances customer experience
Low cost, flexible pricing
Fully integrated with Sellerdeck
Increase closure rates and reduce missed deliveries

Sellerdeck is integrated with Loqate, a postcode look-up facility which makes life a lot easier for you and your customers. Postcode lookup automatically validates and completes address details when the buyer provides their postcode.
Benefits
Better customer experience through a faster and more professional checkout process
Reduced costs through improved addressing accuracy and fewer delivery failures
Reduced cart abandonment as checkout is simpler and quicker meaning less people will be interrupted by distractions
Features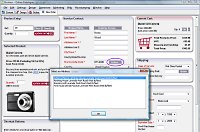 Postcode validation and address lookup with optional choice of street number and house name lookup
Flexibility to use separate accounts for both web and telephone orders
10% Sellerdeck discount on already competitive Loqate prices (the correct link below must be followed)
Full integration with Sellerdeck from v9 onwards – just enter the Loqate account code and license key into Sellerdeck under "Business settings | Address lookup"
Free trial available
Telephone support included
Pricing
Sellerdeck has negotiated a special 10% discount for the supply of postcode lookup services using the market leading Loqate service, already one of the most cost effective services. In order to sign up at the discount rate, you must go to the special Sellerdeck customer sign up area at Loqate by clicking on the 'Buy Now' button above.