Systems Integration
Integrating eBay, PayPal, Sage 50 Accounts and other systems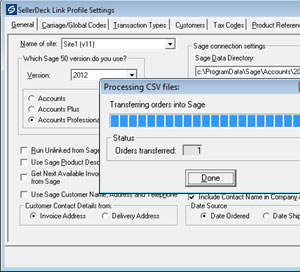 Sellerdeck is designed to tightly integrate with your business and a range of tools are supplied that facilitate the import and export of products, customers and order information. Sellerdeck's extendable architecture means that integrations are available with eBay, Sage 50 Accounts and PayPal.
Management of orders from eBay
Add on integrated labeling from GFS
Dynamic linking to external databases
Interface with Sage 50 Accounts
Deal with PayPal payments with the click of a button
Multi-user and multi-site capability
Sellerdeck enables order processing and catalogue content management simultaneously on multiple networked PCs together with the ability to manage multiple online stores with a single licence.
Feature
Business
Sellerdeck
for Sage 50
Accounts
Business
Plus
Enterprise
Fully integrated product reviews from Feefo
Automatic label and tracking code generation using GFS Selector
Integration with Google Universal Analytics and Adwords

New!

XML Sitemap Generation

New!

Management of eBay Orders

New!

In-Built PayPal Processing

New!

Logging of stock level changes in external file

New!

Extendable architecture allowing developers to add new features

New!

Interface with Sage 50 Accounts, transferring orders and importing product and customer data
Interface directly to Sellerdeck EPOS
Dynamically link products to an external database
Easily accessible MS SQL database for linking to external systems