Sellerdeck Desktop is fully integrated out of the box with PayPal. Simply select PayPal as a payment option and enter your user ID and password to start taking PayPal payments from your Sellerdeck site.
With 20 million accounts in the UK and over 140 million worldwide, PayPal is a popular payment method amongst millions of online shoppers and one of the global leaders in online payments.
It's a fast and secure way for customers to pay online via all major debit and credit cards, online bank transfers and via payments from PayPal account holders. Customers don't even need a PayPal account to pay with PayPal.
PayPal is affordable for businesses of all sizes.
PayPal offers chargeback protection on qualifying transactions.
PayPal offers different products to suit your business needs and size.
Sellerdeck recommends that every business uses PayPal on their Sellerdeck E-Commerce site. PayPal can be used for all payments, either by credit or debit card or from a PayPal account, even if you don't have merchant status.

Configure Sellerdeck Desktop with PayPal >>
PayPal Express Checkout
PayPal Express Checkout enables customers to checkout in just three clicks. You can receive payments from all major debit and credit cards, as well as bank transfers and payments from a PayPal balance.
Why PayPal Express Checkout?
Increase sales- PayPal increases online sales by an average of 14%* with buyers being able to checkout in as little as three clicks
Convert browsers into buyers - With PayPal Express Checkout, buyer conversion averages 77%**. No PayPal account is necessary, giving your buyers the freedom to choose
Retain control - Express checkout allows you to control your checkout. It enables tight integration with your website and order management process
Security - PayPal has industry leading fraud protection and all transactions through PayPal Express Checkout are PCI DSS compliant
How does it work?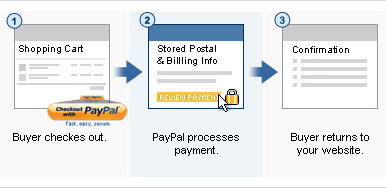 Buyers select PayPal in the checkout flow.
Buyers approve the relevant shipping and billing details.
Buyers are returned to your website to confirm their payment.
Website Payments Standard
PayPal Website Payments Standard is an easy and secure way for customers to pay online. Buyers shop on your website, pay on PayPal and return to your site. Set up can be completed in as little as a few minutes.
Accept payments via all major debit and credit cards as well as bank transfers. Customers do not need to have a PayPal account to pay you.
No set-up or monthly fees – you typically just pay a small amount for each payment received.
No approval required – start accepting online payments today.
Website Payments Pro
PayPal Website Payments Pro is an all-in-one payments solution that enables a merchant to accept debit and credit card payments as well as bank transfers directly on your website, over the phone, by fax and by mail order. You also gain the benefits of PayPal Express Checkout. It's the smart, scaleable way to grow business.
With Website Payments Pro, you can: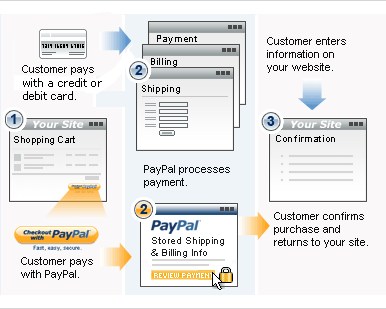 Control your checkout from start to finish. PayPal processes payments seamlessly in the background.
Have one package offering you all the benefits of a merchant account and gateway.
Also add an express lane for 15 million UK PayPal account holders and over 153 million global users.
Get all the advantages of Express Checkout combined with those of your merchant account and gateway.
Get approved in as little as 5 – 7 days.