Mobile Commerce is here to stay
The Sellerdeck Responsive Design is both a smart and modern page layout and also detects and responds to whatever device the visitor is using, re-displaying the store content in the appropriate format automatically (see image below). For example, visitors using a desktop PC will see the usual design, but anyone using a smartphone will see the page content laid out in a single column, with larger links and buttons.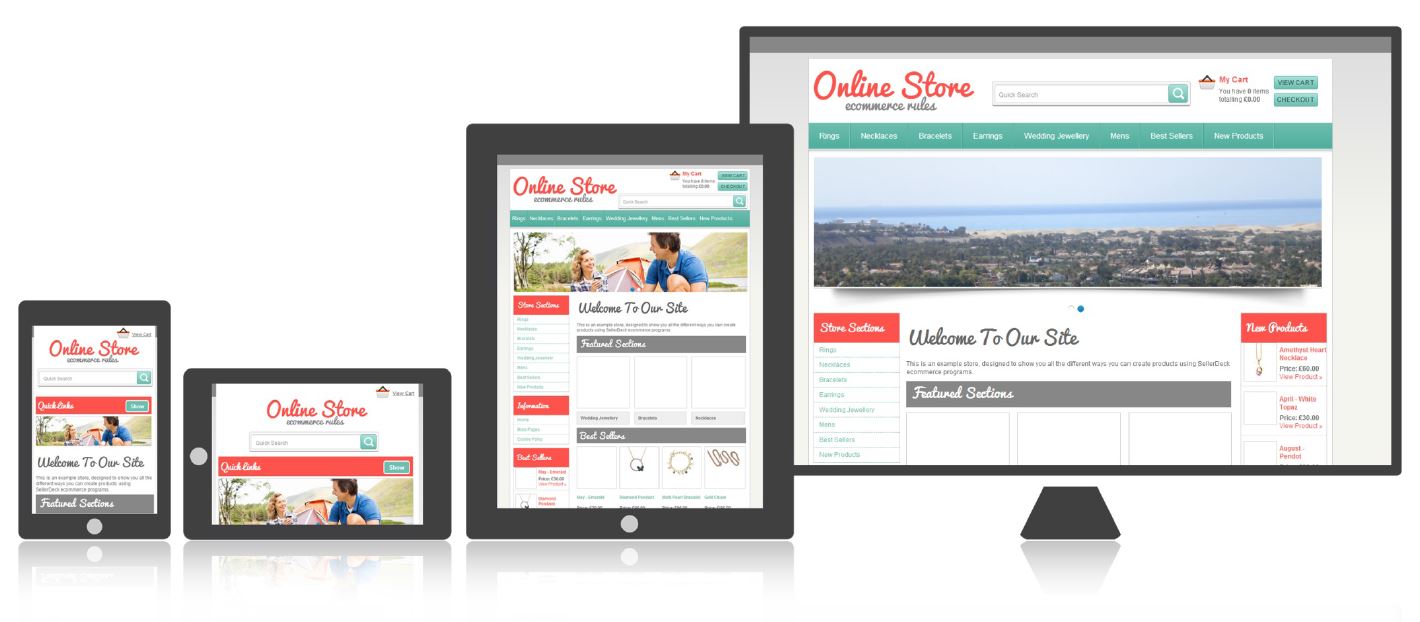 Phil Rothwell, Sellerdeck's marketing director says, "We wanted to find a simple and low cost way for Sellerdeck users to be able to start selling effectively online to all their customers, no matter whether those visitors are in their office, at home, in a coffee shop or on the bus."
He adds, "Many other E-Commerce solutions offer a completely different set of pages for mobile customers, but this gives you the headache of having two sets of pages and two designs to worry about. The Sellerdeck Responsive Design means you just have one fantastic design and just one set of pages for Google to focus on."
Rothwell also advises all e-tailers to, "take a close look at your website analytics to see the different devices your visitors are browsing and buying on. This dictates how quickly you need to adapt your site design for mobile users. But there's no doubt now that the trend towards shopping on the move is an unstoppable one and you may well be missing out on sales already."
Sellerdeck's Responsive Design has the following features:
Automatically adapts your design based on the visitor's browser screen and resolution
Customisable to support your own branding, look and feel
Hides content that doesn't work on smaller screen sizes
Flags up phone and email fields in the checkout so handheld devices show the appropriate keyboard
Tightly integrates with PayPal's speedy checkout options.
The mobile-friendly design can be implemented via three services:
Contacts
For more information, contact:
Sellerdeck's PR: Jane Lee, Dexterity, sellerdeck@dexterity.co.uk, +44 (0)1273 470199
About Sellerdeck
Sellerdeck supplies E-Commerce software and EPOS systems to small and mid-sized companies that want to be in full control of their online business. The company's desktop application gives merchants control over key components such as hosting, payments, fraud detection and customer feedback without having to rely on third-party, cloud-based solutions.
Established in 1996 as Sellerdeck Software and rebranded in 2012, Sellerdeck is the oldest established E-Commerce developer trading today and has enabled tens of thousands of UK SMEs to make an estimated £11bn in sales over its 17 years.
Twitter @Sellerdeck
Facebook https://www.facebook.com/Sellerdeck
Google+ https://plus.google.com/102442605679015134459