Sellerdeck's 2013 Users Conference to Focus on "Growing Your Sales in 2014"
This post is a legacy news item
The annual conference for Sellerdeck's customers will be sponsored by PayPal for the 4th year, and held at its prestigious offices in Richmond, Surrey.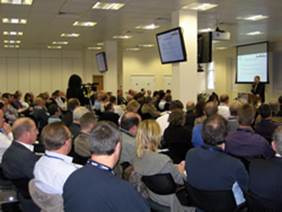 This year there will be a strong line-up of speakers from PayPal and Global Freight Solutions, as well as Sellerdeck itself. These presentations will provide insight into the following key areas:
Enabling mobile commerce
Internationalising your business
Shipping and logistics
SEO, PPC and social marketing
Three streams of workshops covering operations, marketing and technology
There will also be a chance to hear about product developments, including Sellerdeck 2014, along with the opportunity to book expert technical help in 1-2-1 sessions.
Ben Dyer, CEO of Sellerdeck says, "This year everyone is concerned about how to maintain and expand sales in an economy where consumers are more reluctant to spend. Therefore, we've chosen sessions that give insights into m-commerce, the value of overseas markets and how to attract new visitors."
He adds, "However, the conference is as much about delegates networking and sharing their experiences with fellow merchants, as it is about listening to industry experts."
Duncan Rounding of Genesis Technical has attended several conferences: "As both a developer and merchant I found the previous conferences really worthwhile. The content was very interesting and relevant, plus meeting with other like-minded merchants was a valuable experience."
Tickets
Tickets are available at £50 + VAT for Sellerdeck Cover/Developer subscribers, and £99 + VAT for non-subscribers. Click to book your ticket.
Contacts
For more information, contact:
Sellerdeck's PR: Jane Lee, Dexterity, sellerdeck@dexterity.co.uk, +44 (0)1273 470199, @janemlee
About Sellerdeck
Sellerdeck supplies E-Commerce software and EPOS systems to small and mid-sized companies that want to be in full control of their online business. The company's desktop application gives merchants control over key components such as hosting, payments, fraud detection and customer feedback without having to rely on third-party, cloud-based solutions.
Established in 1996 as Sellerdeck Software and rebranded in 2012, Sellerdeck is the oldest established E-Commerce developer trading today and has enabled tens of thousands of UK SMEs to make an estimated £11bn in sales over its 17 years.