Sellerdeck Ecommerce Products
Everything you need to sell online, on the phone and by mail order
"We have always used Sellerdeck and it has been fantastic. Don't be scared and have a go!"

Graham Hart, Harts of Stur
Since 1996, Sellerdeck has been developing range of software applications to help our customers sell online. These are desktop based programs, so our customer enjoy compete ownership and control of their business. Plus they function rich, so customers can use them to manage the content of their web site and process orders
Sellerdeck software integrates every service you need to sell through multiple channels out of the box, such payment processing, customer feedback and even fraud detection (when used in conjunction with Sellerdeck Payments).These are end-to-end solutions, so you can do everything from creating an online store to processing an order.
The Sellerdeck product range offers varying levels of functionality depending on your requirements.
Software Product Options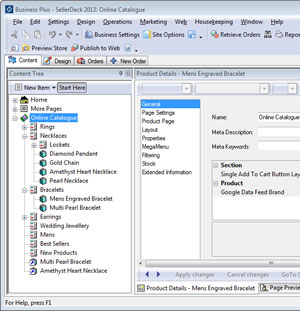 Sellerdeck Business
A sophisticated E-Commerce software solution with marketing and promotion tools and the ability to process offline orders.
Sellerdeck for Sage 50 Accounts
A version of Sellerdeck Business that integrates with your Sage 50 Accounts system.
Sellerdeck Business Plus
Including multi-user and multi-site capability, plus optional support for Microsoft SQL Server Express.
Sellerdeck Enterprise
A scalable E-Commerce system for large multi-channel organisations based on Microsoft SQL Server.
A more detailed comparison of Sellerdeck's E-Commerce software can be found below and a complete feature-by-feature comparison in the Features section. With the exception of Sellerdeck Enterprise all of these products can be downloaded and tested free for 30 days.
Product Comparison Chart
Feature
Business
Sellerdeck
for Sage
Business
Plus
Business
Plus for
MS SQL
Express
Enterprise
Easy to use Windows interface
Flexible product catalogue
SEO and customer-friendly online stores
Customisable store design and layout
Efficient order processing and customer management
Powerful marketing and merchandising features
Advanced pricing and promotions
Support for multiple channels and high volume order processing
Integration with Sage 50 Accounts
Multi-user and multi-site capability
High performance database
High performance and scalable database
Advanced user access control and order processing
Licence
£999
£1,499
£1,499
£ POA
£ POA
Sellerdeck 365 Monthly Subscription*
£75
£250
£250
£250
£ POA
* Estimated prices only, includes web hosting and technical support.
Please note that all prices exclude VAT and may be changed without notice.
Sellerdeck's standard terms and conditions apply to all purchases.