Sellerdeck Desktop 2016
Sellerdeck Desktop 2016
Increase visitors
Save time
Simplify your stock
Future-proof
The Heart of Your Online Business
Sellerdeck Desktop has been designed to sit at the heart of your business, storing your product and order data safely within your company, while connecting with all your most important online systems.
For such an important part of your business, you need a technology platform that secures your business today and in the future. To achieve this, Sellerdeck has updated its market-leading product, Sellerdeck Desktop, improving performance and reliability, while adding a swathe of great new features that will enable you to increase your sales and process orders more efficiently.
And, by enabling third party developers to build their own unique extensions, Sellerdeck has enabled the product to be adapted to your specific needs.
You can download an introduction to the new features here »
Increase Sales with Greater Search Engine Visibility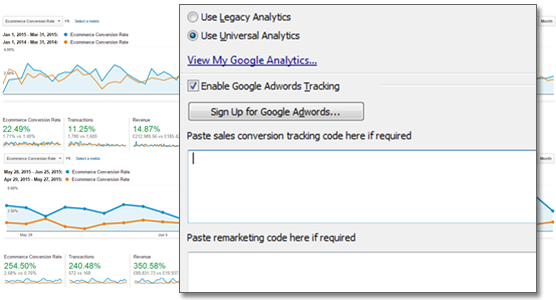 Sellerdeck is committed to helping its customers rank as well as possible in Google's natural search listings. Obviously much of a page's rank is down to the content of the page, but Sellerdeck works hard to make sure the HTML is optimised well, and there are features in the software to help the pages be as visible as possible to Google.
As well as increasing visitors to your store, new features in 2016 also allows you to track the movement of visitors through your site more accurately.
XML Sitemap Generation
An XML Sitemap is essentially a list of all the pages in your store. By providing Google with an XML Sitemap (via its Webmaster Tools) you are making Google's job a lot easier as it can quickly index all the pages in your site without having to spider through all your links and menus.
Google Shopping Feed Generation (new in 16.0.1)
Sellerdeck Desktop 2016 includes a fully integrated feed for Google Shopping. This means all your latest product information will be included in a single file, which can be fed directly into Google. This will enable your products to be potentially included as part of Google's 'Shop For…' area on the results page.
Rich Snippets in Feefo Reviews
'Rich Snippets' are HTML tags that provide Google with a bit of extra information about what it is looking at. One area that rich snippets work well is with customer reviews as you can explicitly tell Google what the 'score' is for each product in your store. Google can then use that to work out the 'quality' of your product pages, which has a positive effect on your rankings.
Universal Analytics
Sellerdeck 2016 includes support for Google's Universal Analytics, which will give you much more accurate tracking of your visitors and allow you to monitor your E-Commerce revenue more simply.
Adwords Tracking
As well as natural listings, businesses now also rely on online advertising to drive traffic to the store. Sellerdeck 2016 includes features to help accurately track revenue from visitors that find you through your Adwords campaigns.
Save Time and Reduce Costs with Streamlined Order Processing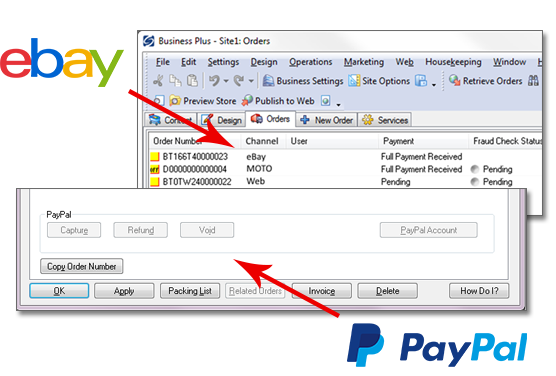 Online businesses must be able to deal with orders quickly and accurately to keep costs down and keep customer satisfaction levels up. Sellerdeck 2016 includes some great new features to automate some common tasks, and save you time and money.
eBay Order Management
Sellerdeck 2016 is able to import orders that are placed at your eBay store. This means all your order processing can be done in one place, rather than across two different systems.
eBay Orders are downloaded automatically and shown alongside the ones from your Sellerdeck store, with a new 'Channel' column to differentiate them. Stock levels are also managed across the two systems.
Integrated PayPal Payment Processing
For orders paid for using PayPal Express, you can now commit, refund and void payments from within Sellerdeck. New buttons in the software make it much quicker to carry out basic operations without having to manually cross-reference payments and orders in the online PayPal system.
Simplified Stock Management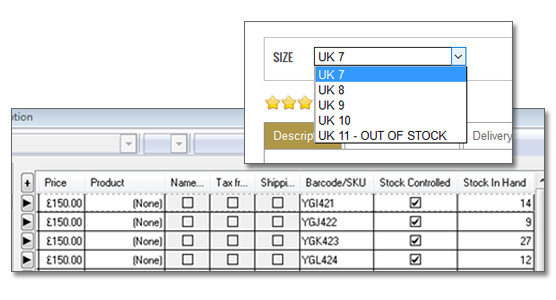 Accurate stock management is essential to keep a business running smoothly and keep customer expectations accurate. Sellerdeck 2016 builds on the existing powerful inventory functionality already in the software, but makes it much more straightforward to keep track of what you are selling and keep the online store updated with the latest stock levels.
Stock Management of Options
In the past, keeping track of stock levels of options meant creating a hidden product in the tree to represent each possible option (or combination of options) that a customer could order. Now, it's possible to enter a stock level for each permutation directly, making it a lot easier and quicker to set up stock management on any product with options.
Furthermore, any out of stock options will be automatically removed from sale by Sellerdeck's online stock monitoring features.
Pack Products
If you sell 'pack products' – i.e. products made up from several different products in the store – then Sellerdeck won't show the pack product is in stock before checking that all the different elements of the pack are available. This eliminates the possibility of people ordering a pack item that you are unable to deliver.
Logging of Stock Levels
Sellerdeck now updates a spreadsheet with details of every product that goes out of stock, thus making it much quicker to identify the products that need re-ordering.
Future-Proof Your Business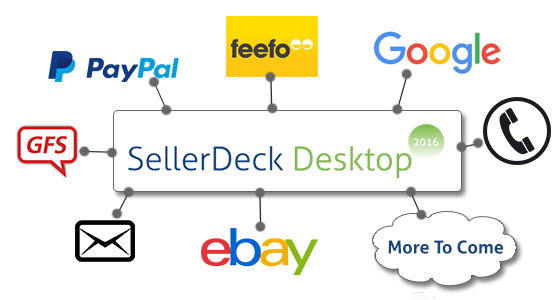 The world of E-Commerce continues to change rapidly and it is a challenge for any online business to keep up with the latest developments. Sellerdeck remains committed to ensuring that users of its desktop software have access to the latest technologies that can enhance their online store and grow their sales
Extendable Technology
Sellerdeck has opened the doors on its software and added a new extensions framework that makes it possible for its partners and customers to write add-ons to enhance and extend Sellerdeck's feature set. These are available for download and sale from a new 'Extensions' panel in the software.
Upload Speed Increase
One of the few downsides of desktop-based technology is the time it can take to publish changes to a large E-Commerce store. That's why Sellerdeck has worked hard to increase the speed and efficiency of its upload system in Sellerdeck 2016.